Productivity and Business Success Story
Susan is an artist and artisan, creating sumptuous marbleized home décor and accessories she describes as "beautiful things that make you smile." While the beauty of Susan's work is unparalleled, she struggled to develop a business structure that supported her creative efforts and protected her from the strain that often keeps artists from achieving commercial success.
Art should never be predictable, but the business systems of an artist must be. We began our coaching work when Susan recognized that to confidently create, she had to avoid feeling obligated to work incessantly just to keep afloat. Like many solopreneurs, she felt the pressure of constantly being on guard for when the next shoe might drop. Susan needed effective financial systems, improved productivity, and clarity to achieve her vision of the future.
FINANCIAL CLARITY THROUGH SYSTEMS
The business of art requires very different skills from the creation of art. In some ways, the art itself may seem to be created by magic, but billing clients or filing taxes is anything but magical.
First, we worked together to establish attainable financial goals. Susan would eventually invest time and effort into QuickBooks, but we began with the basics in a way that made information relevant and logical for Susan to process – by making money beautiful!
Susan acquired a pretty notebook and divided it into sections, tracking all business income and both business and personal expenses. With a clearer sense of the numbers, Susan was able to improved her business decision process and understand the relative impact of these decisions.
Analyzing the cost of production (in terms of both materials and Susan's time) meant Susan could invest her time and effort in the most profitable creations and gain clarity regarding what she could stop making. Susan welcomed the revelation that some unprofitable products were those that didn't even give her joy to create! She could also develop dependable supply levels, ensuring she always had the necessary inventory to meet demand and knew when to accommodate holiday and other seasonal needs.
Over time, Susan recognized she could move from a 90% physical/10% online business to the reverse. This set off a powerful chain of activity, increasing her focus on organizing a redesign of her website while eliminating the need for (and expenses of) a brick and mortar storefront.
Tracking income and expenditures gave Susan a sense of mastery over what was really happening in her financial life, enabling her to better manage expenses, spot the financial and energy costs of unprofitable activities, and spotlight the value of her time relative to the money she made.
PERSONAL PRODUCTIVITY SYSTEMS
Time and task management, especially for an artist, may lack a logical flow. It's easy to follow the muse rather than the clock. Susan's success in handling her schedule hinged on two factors, planning and scheduling work time and then designating restorative personal time. This meant implementing a calendar system that wouldn't impede her creative impulses, and making sure all prioritized activities were given ample time for completion.
Even if the artistic instinct can't be governed by time, production of art must be. Similarly, business tasks can't be put off until inspiration strikes. Using the coaching process to brainstorm aloud, organize her thoughts, and get feedback, Susan achieved the necessary clarity to strategize.
Susan began by identifying everything she was currently doing and evaluated the relative worth of each task. Creating monthly production goals helped her visualize where time had to be spent. Instead of working according to her gut, Susan worked her plan, confident that she was spending her high-energy hours on important work and developing ideas, bringing them to fruition. A reality check of how long it took to accomplish administrative tasks, from handling mail and phone calls to dealing with paperwork, made it easier to create blocks of time for attending to the entrepreneurial side of things.
Susan also recognized that her own time had to be spent on work she was uniquely qualified to do. To that end, she hired a college art student to assist her with finishing, packing, and shipping products, leaving her more time to shine creatively.
Next, we addressed Susan's need for self-care. With a flexible but realistic schedule for creative and business tasks, Susan now knew when she had time available to focus inwardly. The coaching process gave Susan a sounding board to help her recognize successes and areas requiring improvement. She developed a series of empowering mantras, including, "NO is a complete sentence,"  and "Every time you say yes to someone else, you say NO to yourself."  Susan came to embrace the concept that, "if everything is important nothing is important."
IDENTIFYING GOALS, ATTAINING DREAMS
Susan could envision what a piece of décor should look like, but coaching helped her develop a vision of what her whole life could look like if she defined, and then achieved, her goals.
Financial goals don't merely give clients something to work toward; they provide a framework for identifying what success means. Under pressure to earn money for the basics, it's difficult to maintain enthusiasm. However, entrepreneurs who recognize that they are on target to reach benchmarks of financial success can work without stress or pressure, secure in the knowledge that they are on the right track. Such confidence means artists like Susan can take time to recharge without worry or guilt.
Defining personal and professional success helped Susan create her ideal future. Clear revenue benchmarks meant Susan could structure how she would implement profits, both for running the business and supporting a comfortable life, including periodically stepping away from the creation process to get re-inspired and manifesting a home life that nurtured her. All of this yielded what Susan calls "Creation Joy," the happiness of doing what she loves.
As a solopreneur, Susan credits having Ellen as her trusted advisor with whom she can talk through business challenges critical to her success. Confident in a financial foundation and operational plan to drive her business, Susan has achieved one of her biggest personal goals. This year, she purchased a house – a beautiful house!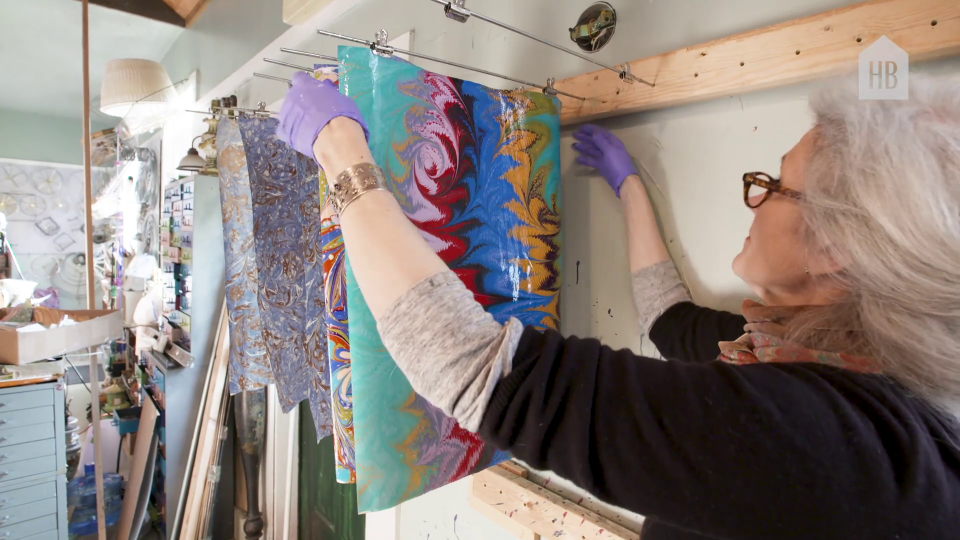 Watch the fabulous House Beautiful video of Susan creating. We call 2020 the year Susan went from House Beautiful to Beautiful House.  Susan invites you to visit Shandell's for the perfect "thing to make you smile."