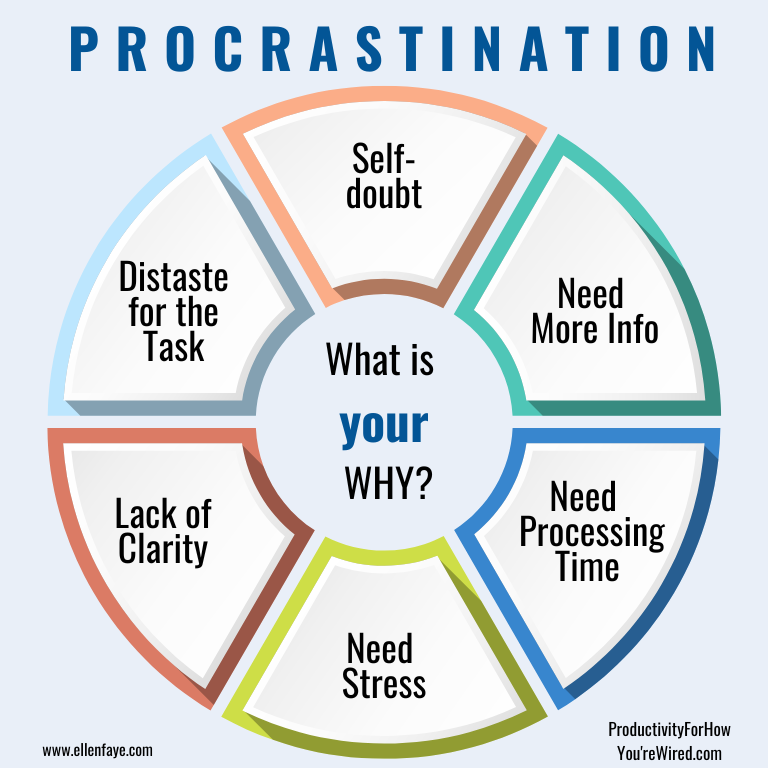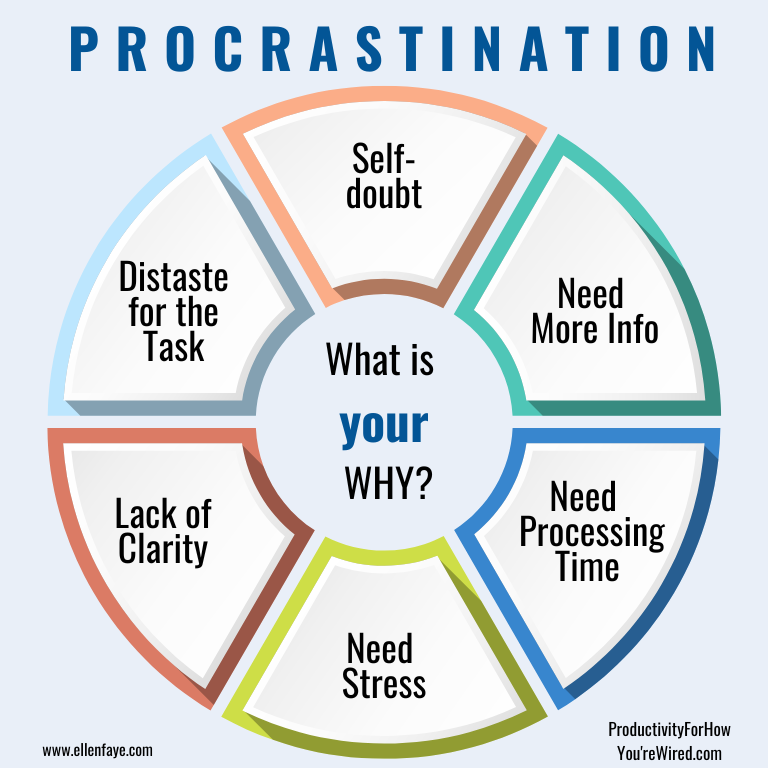 Why Do You Procrastinate? You aren't the only one asking yourself that question! Without an understanding of why you are procrastinating, it's hard to figure out what to do about it.
I realized this when I studied my own procrastination tendencies. I learned I usually procrastinated when I needed more information for the next step. Once I understood that behavior, it became easier to figure out how I could learn what I needed to know. Procrastination would also occur when I need more time to think before moving into action. Now that I understand my "why," my procrastination is manageable.
Read through this list and consider which of these causes explain why you procrastinate. It is often more than one.
What Is Your Why?
Self-doubt — Lack of confidence is a real stopper. It makes sense that it is hard to move into action if you don't believe in yourself, or you don't believe what you'll deliver is going to be good enough. You are probably really hard on yourself. It can be helpful to realize everyone has a degree of self-doubt. It's what you do about it that drives outcomes.
Need more information — It's hard to do something when you don't know how to do it. On the other hand, doing too much research is procrastination in itself. The goal is to find the right balance of information to move you into action. Awareness and asking yourself "what else do I need to get started?" is helpful.
Need processing time — Sometimes you just need time for things to percolate. That good idea you had in the shower this morning? It probably wasn't a new idea. You were creating the space for that idea to come to fullness. Do you do a better job solving the problem after you "sleep on it?" That is good procrastination!
Need stress — Many people use deadlines to create enough stress to move into action. In last month's blog post on stress and productivity, we learned about the correlation between stress and performance and that without enough stress, we don't move into action. Deadline stress can be your solution to getting work out the door. If this is your choice, stop beating yourself up and accept who you are. One warning here: Do you hear yourself saying, "I just didn't have enough time to do the job I wanted to do?" Some people use procrastination to self-handicap. Delay becomes an excuse for not turning in their best work, or even a way to avoid feedback.
Lack of clarity  —When you're not clear what is important, you end up spending time on low-value tasks and putting off or not doing important work.
Distaste for the task — It's hard to be motivated to do a task that you hate doing. If this is the case, consider alternatives. Can you delegate this to someone on your team? Can you pay someone else to do it? Can you take it off your list?
Perfectionism — Does the need to be perfect keep you from doing what needs to be done? We'll look at this in more detail in future blog posts, but remember – perfect is the enemy of done.
---
This is an exert from Chapter 4 of my new book Productivity for How You're Wired available on Amazon.  Next post I'll share strategies to help overcome procrastination.