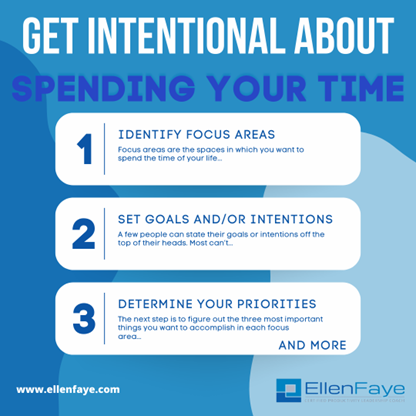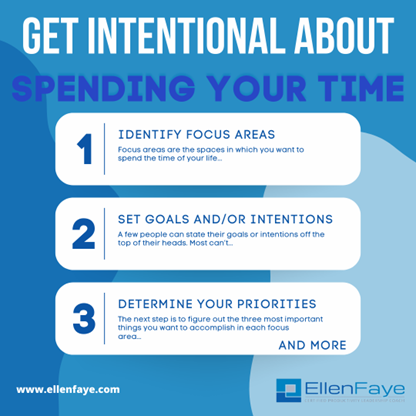 In my last blog post I explained the importance of setting your goals and intentions, and we discussed why adding intentions was so important. In my book Productivity for How You're Wired, I share 3 different models you can use to set goals and intentions based on your structure preference. You can create your own plan by following the steps below.  Definitely do the first 3 steps. Steps 4 and 5 are optional based on "how you're wired."
Step 1: Identify Focus Areas
Focus areas are the spaces in which you want to spend the time of your life. In a financial budget you'd have areas such as home expenses, utilities, clothing, food, and entertainment. For your life's Focus Areas these may be business/work, professional development, personal growth, self–care, family, spirituality, friends/social, volunteerism, service, activism/advocacy.
Step 2: Set Goals and/or Intentions
A few people can state their goals or intentions off the top of their heads. Most can't.
If the answers don't come easily to you start by developing your priorities (Step 3). Then use your priorities to back into your goals and intentions. While it goes against every rigid business planner's process, completing your priorities first can help you see exactly what matters. Ask "what is the purpose of doing these things" (the priorities.) The answer will bring the goal or intention into focus. Keep your goals and intentions concise and clear. They cue you to remember. They do not need to include ALL the details.
Step 3: Determine Strategic Priorities
The next step is to figure out the three most important things you want to accomplish in each focus area. Your priorities should be actionable within the established time frame of your plan. The priority should identify what you will do.
Start with an action word such as plan, complete, strategize, or implement.
Be concise – provide enough detail so you understand what want to do, but not so much you can't easily grasp the action.
When identifying your priorities, it is often helpful to prime the pump by ask yourself questions such as these:

What project, task or action is critical to my success/my organization's success?
What do I want to accomplish?
What would I be disappointed with if I didn't achieve?
What do I need to do to be who I want to be? 
Step 4: Create your Mission/Purpose/Success Statement
This is your WHY, your driver, what motivates you in work and/or life. If you know your WHY, add it now. If not, it often comes into focus as you complete the rest of the map. This step is optional. Add it if it supports you. Your statement should inspire you:
Use words that will reinforce what is important to you.
Define what success means to you.
Step 5: Plan your Quarterly Tactics
If you thrive in high structure and you're excited about having a full–blown, step–by–step quarterly plan, this last section is for you. However, if the thought of doing this last step sounds dreadful, you're best to skip it.
Think the project through.
Now put the project elements in order. Consider what steps must come before the others. You'll probably identify a couple of things you are missing. Add those in.
Estimate the time you'll expect to spend on this element. A good rule of thumb is to double your time estimate.
Now plug the elements into your quarterly plan.
Start thinking about what matters to you.  Use a template from the book or design your own. What's most important is that you take a bit of time to identify how you want to "spend" your time.
---
This is an excerpt from Chapter 7 of my new book Productivity for How You're Wired available on Amazon. Worksheets and online templates are included via the time tools link discussed in the book.