19 Jun

Spend Your Time On What Really Matters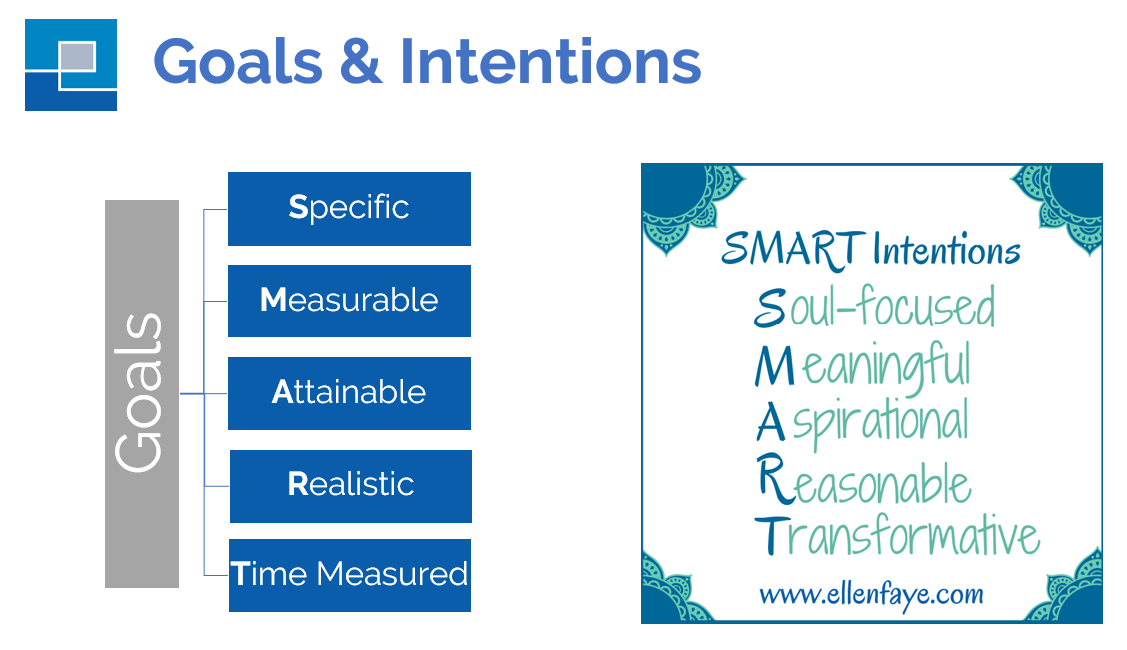 In my last post I introduced you to the Productivity Flow Framework featured in section 2 of my new book Productivity for How You're Wired. Today we move to Chapter 7 where we explore the first concept of the framework – setting your goals and intentions.  Remember, the reason we do this is to clarify and commit to priorities – those things that take time yet YOU deem as most important.  
Many of my clients struggle to set priorities. When asked they simply aren't sure about what is and isn't important. Setting goals and intentions helps you clarify what is important – namely those things you want to achieve. Goals have a specific outcome. Intentions are more general and reflect how you wish to live. We look at how and why to integrate both into your plan.
Why Intentions and Not Just Goals?
Goals are useful in some cases. They just aren't applicable for everything. Considering intentions (how you want to live) expands the value of this exercise.
Goals
A goal has a specific outcome: 
Make profits over six figures this year.

Complete the team on–boarding program by June.

Lose four pounds a month each month this year
The business world embraces the acronym SMART to define the best practices of goal setting. 
S

PECIFIC

M

EASURABLE

A

TTAINABLE

R

EALISTIC  

T

IME–BOUND
A benefit of measurable goals is that they help define achievement. If you know you want to make $100K for a period of time, then you also know when you have attained that benchmark. This takes a bit of pressure off the workaholic, type A, never-enough driver. It helps them to know it's actually okay to slow down. Goals are great for certain aspects of your work and life. They're just not the complete picture. 
Intentions
An intention clarifies how you wish to live. 
I work smart and give great service.

I live a healthy, happy life.

I give my best self to my family.

I continue to learn so I can help other leaders grow.
Intentions speak to your inner-self and bring meaning to the things you do. They can be aspirational, motivating you without the pressure of measurement. Intentions help you find success as defined by you.
Consider SMART intentions:
S

OUL–FOCUSED

M

EANINGFUL

A

SPIRATIONAL

R

EASONABLE  

T

RANSFORMATIVE
Goals AND Intentions 
Most people have both goals and intentions. To focus on one and not the other is addressing just a portion of what is important.
My clients tell me they need help figuring out how to get all their work done. In reality, work is only part of the challenge. Many say they would like to take time off without worry, spend more quality time with their families, and even have a bit of time for themselves. As you work through identifying your own goals and intentions, you may want to consider more than work. Remember, a key reason to improve productivity is to have a full and better life.
Success On Your Own Terms
When people think of success, most think dollars. However, when they clarify what success means to them, they typically find they are seeking something more holistic. The money part is more the vehicle to get to the life they want. 
Do you want to have time to take care of the kids or an aging family member and still have a career? What if you want to travel and still have your work? What if your success is defined by having time to give back to your community?
Success is not always about the money. Being intentional about what matters in the big picture of life helps keep you from falling into the trap of letting others define success for you.
---
This is an excerpt from Chapter 7 of my new book Productivity for How You're Wired available on Amazon. Worksheets and online templates are included via the time tools link discussed in the book.