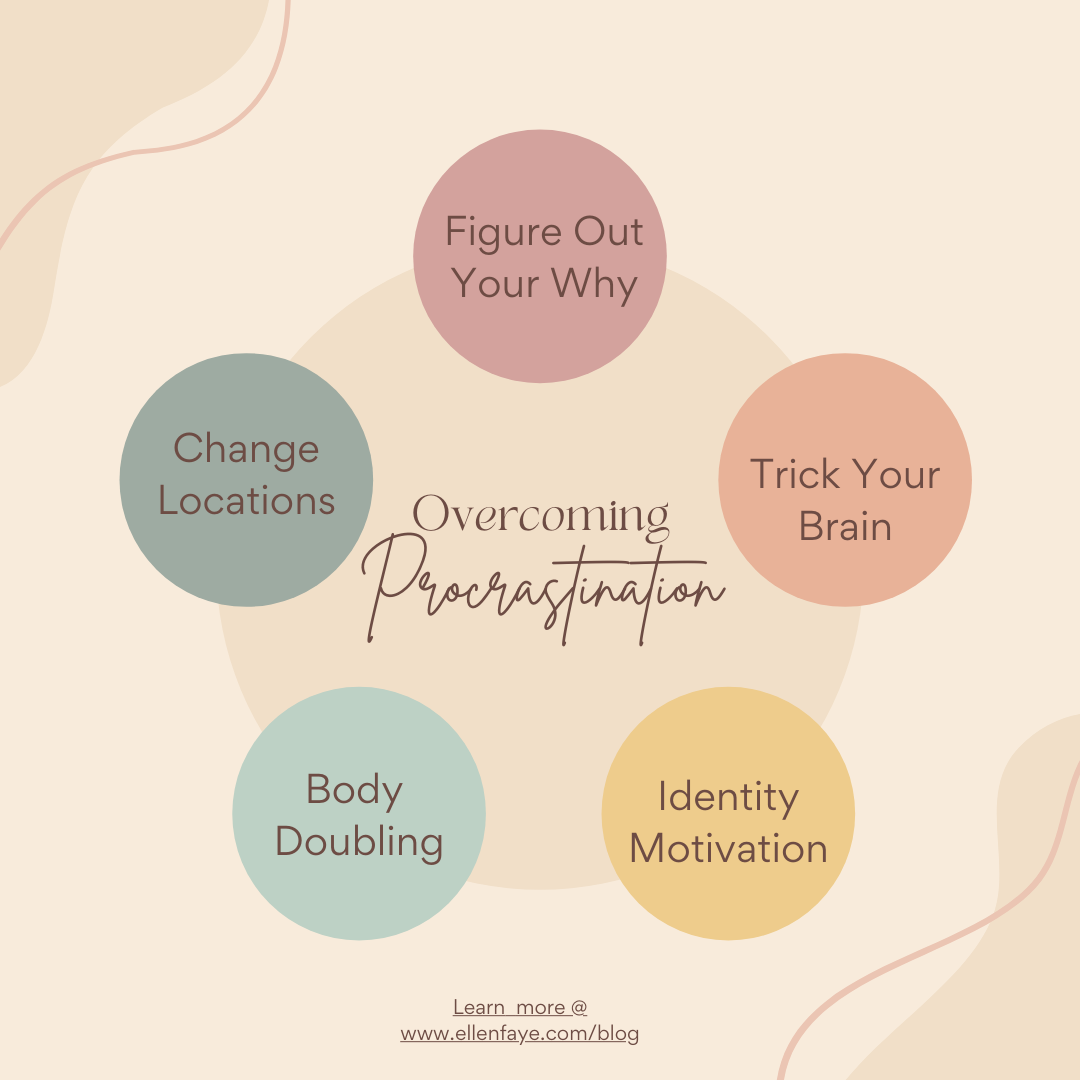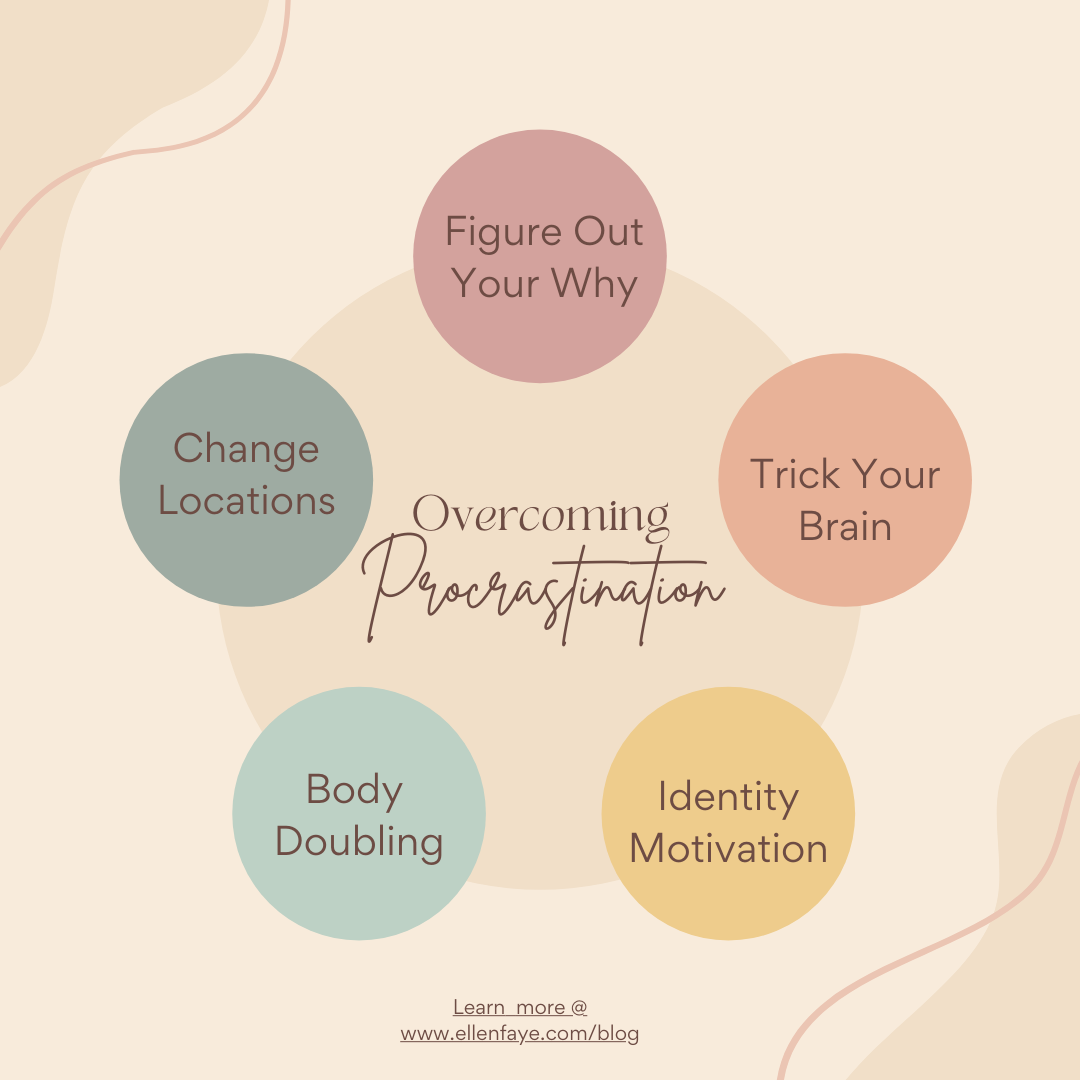 I've been hearing a lot lately about people struggling with procrastination. The pandemic has taken a lot out of us, and we are all a bit worn down. When we put off doing what we "need" to do it makes us feel undisciplined and lazy.  The self-compassion experts tell us that just makes things worse.
Instead of beating yourself up, it is much more effective to figure out why you procrastinate. Then you can take positive action to overcome the obstacle. Procrastination is typically NOT about discipline!  When the system is right and you understand what is happening then it takes much less willpower to move into action.
Procrastination Strategies
If simply intending to do the task worked, you wouldn't be reading this. There are a number of less-typical strategies you can try to see what will help YOU blow through YOUR procrastination obstacles.
Figure Out Why You Procrastinate – There are many reasons people procrastinate. Figuring out your reason(s) is the first step to overcoming them.  Is it self-doubt or do you just need more information?  Do you need more time for the information to percolate in your head, or do you simply need the stress of the deadline to activate?  Are you unclear if the task is important? Or do you just hate doing it?  Understanding the cause of our individual brands of perfectionism helps us move into action.
Make the First Step Small – focus on getting started. Don't worry about finishing. Set one mini-goal to get you to sit down and start.
Trick Your Brain – Start with an easy task to stimulate your brain. Take advantage of the "pleasure seeking" chemicals and as soon as you finish the easy/fun task move to one of the "harder to complete" tasks.
Identity Motivation –Use a character trait you like about yourself to help you activate. i.e. – I am a learner, I have perseverance, I am a problem-solver. Then ask:
What kind of situation is this?
Who am I?
What does someone like me do in a situation like this? If you consider yourself to be thoughtful – then you'll ask yourself – what does a thoughtful person do in a situation like this? If you consider yourself to be a problem solver then you'll ask yourself – what would a problem solver do in a situation like this?
Body Doubling – Body Doubling is having a partner share your space to help keep you on task. They don't need to do anything in particular. Their very presence helps move you to action.
Meet a friend at the coffee shop and work on your "hard" project alone – together.
Meet a colleague in the conference room and set your Pomodoro timer.
Ask a family member to sit with you while you are getting started.
Hire a NAPO Professional Organizer or other consultant to work on your project with you
Change Location – A unfamiliar space can provide just enough stimulation your brain needs to move into action. Weather permitting try working outside, a new coffee shop, or even a new location at work or home. Simply changing chairs at your kitchen table may be enough to shift how your brain is processing the environment.
Freak Yourself Out – Creating controlled stress can help. Make a list of the top 3 consequences of not doing this project. Now make another list – top 3 consequences of not doing this project on time. Not failing can help move you into action.
---
This is a combo repeat blog post with information from Chapter 4 of my new book Productivity for How You're Wired available on Amazon.  Next post we'll look at the burden of procrastination.