30 Aug

Finding The Way YOU Work Best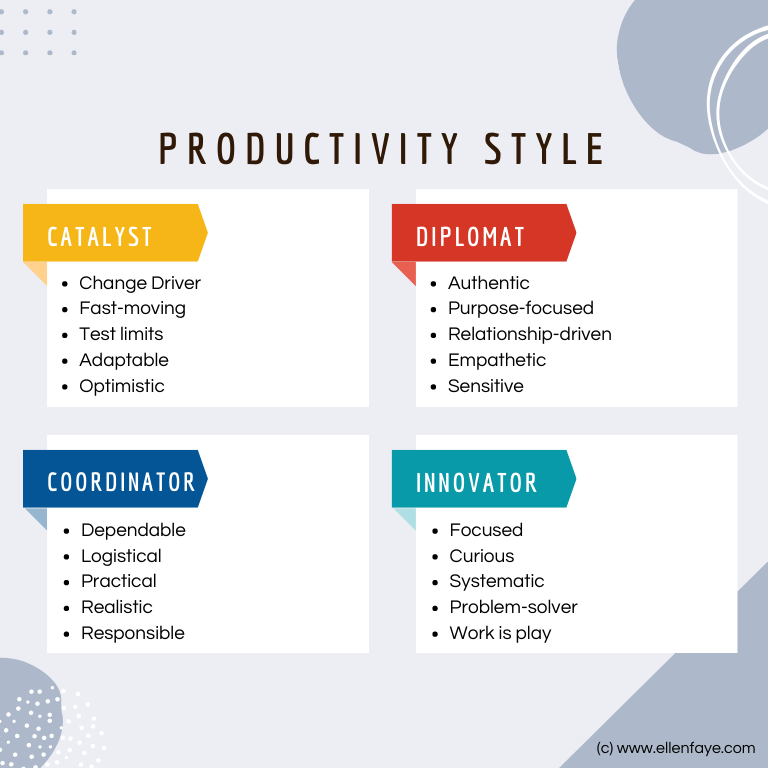 In my last blog post I introduced you to the concept of Structure Preference – how much structure you personally need to do your best work.
In this week's post we'll use that information to guide you in finding the way you work best.  Knowing what's unique about how you work can guide you as you craft productivity systems that fit how you're wired.
David Keirsey, Professor of Psychology, and co-author of the seminal book Please Understand Me: Character and Temperament Types, streamlined the Myers-Briggs® by identifying personality types based on two specific personality characteristics. He theorized that the way one processes information influences behavior. He believed SENSORS are most affected by the way they function in society, while INTUITORS are most influenced by their decision-making processes.
Applying Keirsey's concepts to productivity inspired my productivity styles: Catalyst, Coordinator, Diplomat, and Innovator. Use your structure preference to narrow your options. If you are Task Priority Focused chances are your either a Coordinator or Innovator.  If you are Relationship Priority Focused you're most likely a Catalyst or Diplomat.   Review the chart below.
Can you recognize your Productivity Style?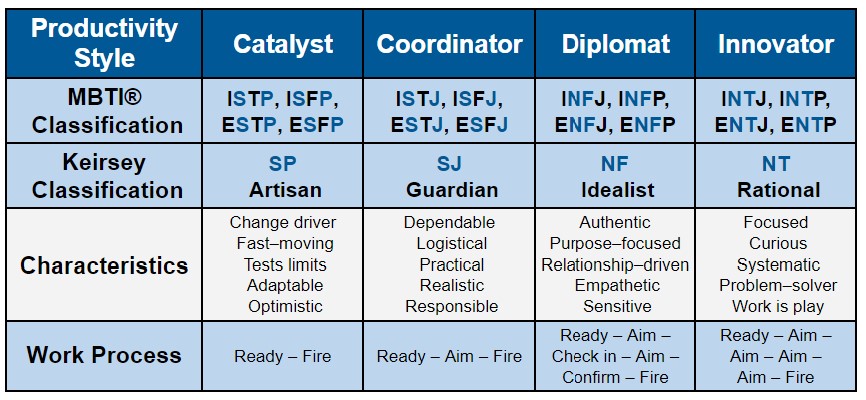 Once you understand your more about yourself, you'll understand more about how to set yourself up for success.
For example, let's look at how people with different productivity styles approach doing a to-do list.
CATALYSTs thrive with simple systems. They keep it high level by using their list to capture ideas and identify most urgent tasks.
DIPLOMATs benefit from taking time to plan their work. Since their tendency is to verbally process rather than write, committing to the system is key. They make it fun by color coding and using creative labels.
COORDINATORs love seeing everything in one place. They plan their work and work their plan.
INNOVATORs like to plan but can get lost in trying to improve the system. They do best when they use their list to capture ideas and prioritize, and then quickly move into action.
Are you staring to think differently about how who you are affects your best way to do things? If you've ever felt like a square peg in a round hole, understanding how who you are impacts how you do things will shift your perspective so you can consider alternative approaches.
Book News:  The book WILL be out next week.  Available for purchase on Amazon next Wednesday, September 7th.  I'll send a link to you next week when the book is available.
Save the Date: Virtual Book Launch Party – Wednesday September 28, 2022 from 4 p.m to 7 p.m.  Eastern Time.  This will be an open house so please drop in for a few minutes or longer, whatever is good for you. I've ordered these amazing custom bookplates so that I'll be able to "sign your book."  And we'll have give-aways, readings, Q&A, and just celebrate.  Zoom link coming soon.
Welcome to The Better Work Better Life Blog – Here I share big ideas to help you think differently about your productivity, your work, and your life. My goal in this series of posts is to summarize the concepts I share in my new book (out next week) Productivity for How You're Wired. My promise to you, as it's been for the last 15 years that I've been blogging, is to write something short enough that you can read it in the moment.