Welcome to the Productive Leader Blog 2.0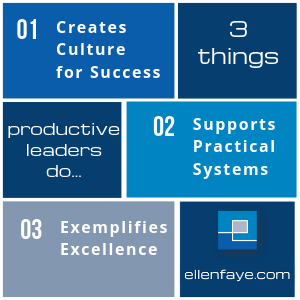 I've taken my own advice.  I set aside blogging and writing on personal productivity, and productively engaged in my volunteer leadership responsibilities. But I'm back.
Last week at the NAPO2019 National Conference, I was honored with the 2019 Founders' Award – our industry's top recognition for advancing our profession.  What a thrill. Gratifying and fulfilling, the Award acknowledged my 7-year service  on the NAPO Board(National Association of Productivity and Organizing Professionals) Board, including 2 years as their President.
And now it time to get back to the business of my business, and I'm excited to share my thoughts and ideas, with a clear focus, on supporting productive leaders.
Here's what I know about being a productive leader – it is someone who:
Creates an engaging, positive, and psychologically safe environment so those they interact with can do their best work, …
and implements and supports practical systems so those they interact with can work most effectively, …
and exemplifies excellence by having and executing reasonable personal productivity habits.
Providing you with short, useful, and meaningful takeaways on leadership, team productivity, and personal productivity are my goals for the Productive Leader Blog.
So, stay tuned or unsubscribe as you see fit. As always, I welcome your questions, comments and thoughts.
Here's to a thoughtful, fulfilling, and inspiring future.