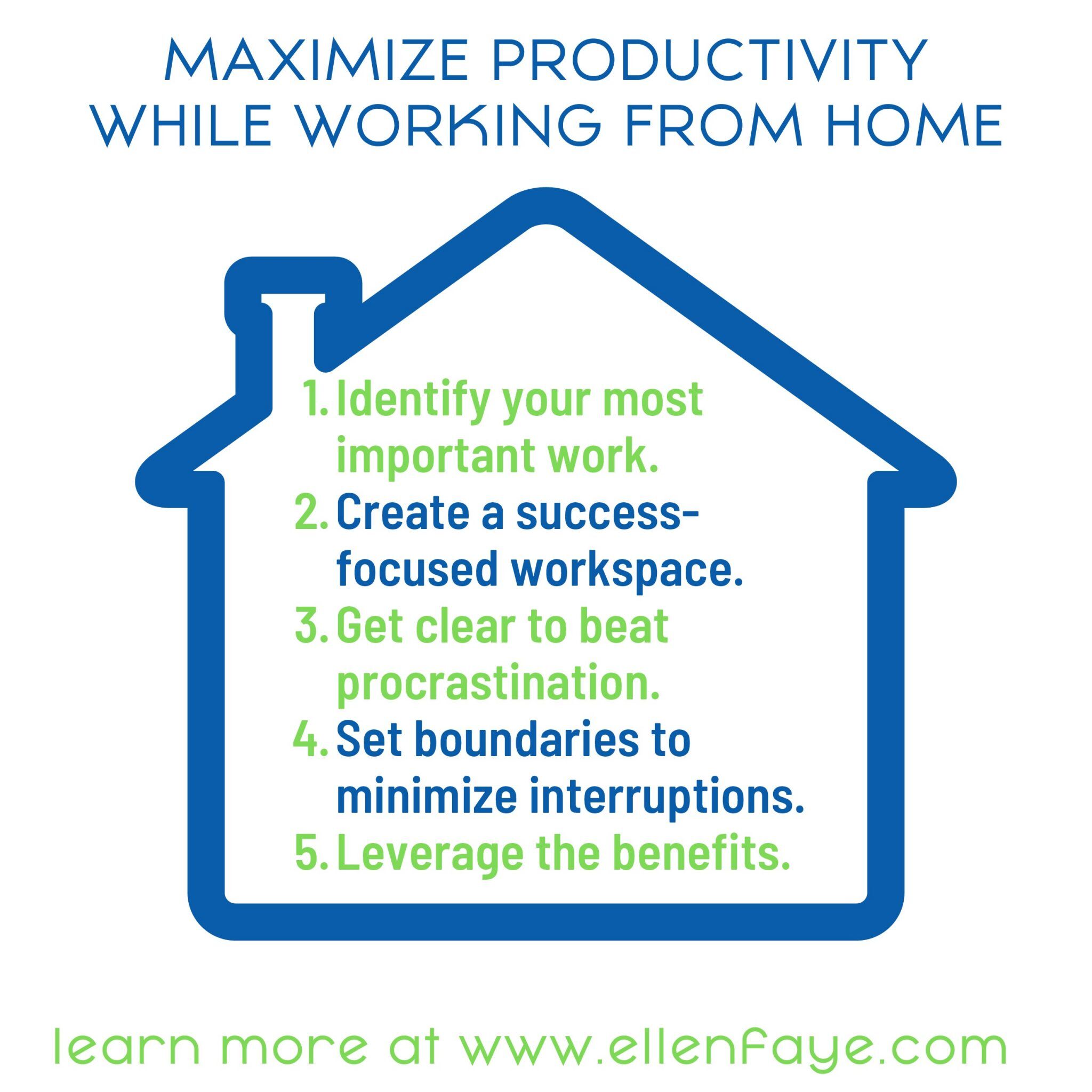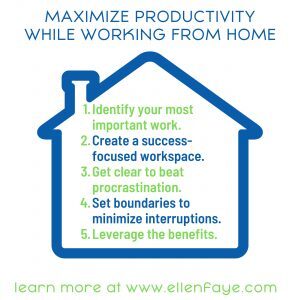 COVID-19 (Coronavirus) has more people working from home.  Follow these tips to maximize your productivity.
Identify Your Most Important Work Each Day

Organize your tasks by priority – know what has to be done this week, what you want to get done this week, and what MUST be done by the end of the work day. Focus there!
Make a physical list of today's tasks and keep it in front of you. If it is not in front of you, it won't be top of mind. (Hint: on your phone or computer isn't as effective as a written note in front of you.)
Some clients find it helpful to estimate duration and identify task start times of the physical today's tasks list. That helps fight the "time expanding to the time available" challenge.

Create a Workspace That Supports Your Success – Most of what is written about working from home is how to use your time and how to prepare for work.  I know plenty of effective people who work in their pajamas or exercise clothing all day. For many, what they are wearing doesn't drive productivity.  The biggest obstacle I've observed is not being physically set up for success. Having a work space that supports productivity is crucial:

Have Supplies in Reach:   Have pens, pencils, markers, post-its, letter pads, files, action priority lists in reach.  While your "office" may be your kitchen island, your dining room table, your back porch, or a comfy chair in your family room, you still need to designate a space (a close by drawer or cabinet perhaps) for the things you need to get your work done.
Set Up Your Technology: Do you have a printer handy?  Is it connected to your Wi-Fi and computer?  Do you have a second monitor for detailed projects (this can increase productivity exponentially.)  Do you have a handy place to charge your ear pods, and mouse and other technology?  Is your Bluetooth hooked up?  Many people say "I'll do that later" and never get to it.  Taking the time (or hiring someone to help you) get your tech set up makes a huge difference.
Find a Quiet Space: Are you able to have a conversation without interruption?  Yes, we know that it's great to have your kids close by, but sometimes you need to be able to close the door and focus.  If you are working in a "public" space, I recommend having a backup location designated for times you need quiet.

Get Clear to Beat Procrastination – There have been some good articles written lately that procrastination is more of an emotional issue than a discipline or work-habits issue.  I agree and have typically found procrastination to be driven by one of two things:

Lack of Clarity About What's Most Important – when you're not clear you end up doing fun or easy stuff instead…

If you work for yourself it's helpful to create annual goals/objectives/priorities to help you know what to say no to and what to say yes to.  If you aren't clear about what your priorities are, then it's going to be really hard to achieve them. (I address this in this blog series)
If you work for a company, I recommend a sit-down with your manager to discuss priorities and what is actually important.  You'd be amazed at how often it's just assumed that everyone is on the same page…and they aren't.

Not Knowing How to Do Something or Where to Start – so you just don't start.

When I dig down into it with my clients, they procrastinate because they aren't clear about how to do what they want to do. Often, we will come up with a step by step plan, identifying actions, order, and steps for completion.  Once they have that plan, they can move into action.
Sometimes you just need more information.  Once that's identified then my clients can figure out how to gather that data, and once they have the information, they can proceed.
Sometimes things just need to percolate before moving into action.  Listen to Adam Grant's Ted Talk on Pre-crastination!

Set Boundaries to Minimize Interruptions

Set boundaries (rules) for those who are home with you about when and how you are to be interrupted. Schedule breaks and share those time with your family/friends/roommates so they don't feel the need to interrupt as often.
Set work hours and be sure that people in your sphere know you are WORKING from home. Many people think it's ok to call and chit chat or that you can take an hour walk or lunch break.  If you want to avoid working 24/7 then setting specific work hours is crucial.

 Leverage the Benefits of Working from Home

Quiet, Uninterrupted Time: A lot of my clients really struggle working in open spaces. There are constant interruptions and sometimes headphones don't screen out the noise.  In some offices it's not politically correct to wear headphones, or to wear them all the time.  Even a day a week at home, to do project work, can make all the difference.  The brain is not set up to handle multiple inputs.  Practically all people have trouble focusing and getting into flow when they can't hear themselves think.
Time Efficiency: You can get your work done more quickly working from home and/or accomplish more during your work day. Of course, there is the obvious too – not taking 15-minute breaks at the coffee machine to chit-chat, not going out for an hour lunch (yes, take a lunch break, but you don't need a hour!), and not being asked to answer the phones or pick up the slack because there is slack to be picked up and you are there to pick it up.