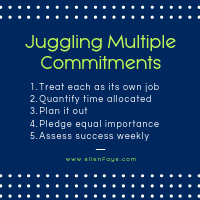 This week's topic comes from a client's inquiry.  She is seeking a better way to balance freelance work, her full-time job, and everything else going on in her life.
The word that comes to mind is RUTHLESS.  She will have to be ruthless in her planning, her priorities, AND her follow through.
A solid plan is paramount:
Treat this like you have two different jobs – treat the freelance job like you had a boss and you had to show up. If you're serious about the other responsibility you can't not do it just because you don't feel like it. This holds true for freelance/gig/second jobs, volunteer commitments, family tasks, and other responsibilities.
Quantify time allocated to each commitment – If you want to work in your freelance job 20 hours a week and your regular job 40 hours a week, get real about what a 60-hour work week will be like. What do you have to say "no" to to say "yes" to this?
Plan it out on your calendar – now let's bring this to life by clarifying what your week is going to look like. Plug into a calendar grid what you'll do when. Create a spreadsheet beginning with what time you'll wake up and what time you'll go to sleep.  (I call this Ideal Week planning – ideally, if all things go well – my week will look like this…)
Pledge to yourself that your 2nd responsibility is as important as your day job – not necessarily in hours, but in commitment. Monitor your actions.  Log your time. If it's not working ask why not.

Are you too tired?

Are you working with your body clock?
Can you swap office and freelance time?

What can change?

Are you going to bed at the right time?
What other work can you delegate/pass on? – hire someone to clean your house, have your groceries delivered, take your laundry to a wash and fold service.

Are you motivated enough?

How much do you really want to be doing all you are doing?

Assess success weekly – is there a friend or coach you can check in with to discuss how it's going? Or is it enough for you to be accountable to yourself?

Did you reach your goals?

If so – what worked?
If not – what didn't work?
At the end of the day there are only so many hours. If you are going to say "YES" to multiple responsibilities, what do you have to say "NO" to?