04 Aug

Structure Preference To Boost Productivity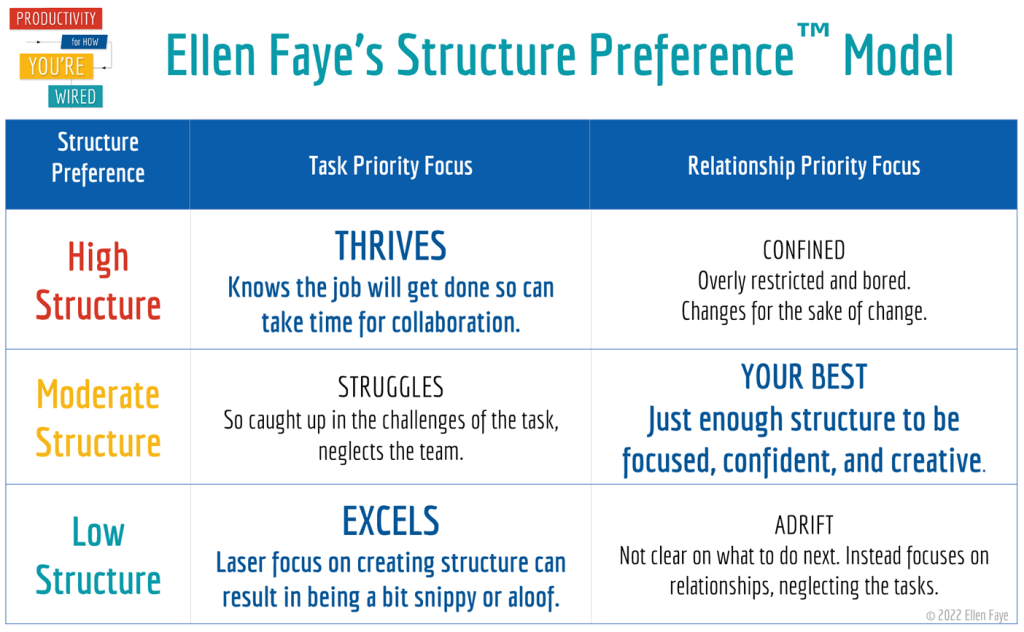 Understanding your structure preference will help you leverage your strengths and give you context to create systems that work for you.
The concept of Structure Preference grew out of my observations of successful clients over the past 20+ years.  Rooted in situational leadership theory, the same principles apply to organization and productivity. Connecting how you're wired with how you work (and live) helps identify how much structure you need to be your most productive self. This is the crux of my soon to be published book, Productivity for How You're Wired.
Why does structure preference matter?
It builds self-awareness and helps put in perspective why you are the way you are.
It shows you how to adjust a situation to make it fit you, rather than changing how you're wired to fit a situation. (Think round peg/square hole or square peg/round hole!)
There are two elements to consider when determining Structure Preference:
Priority Focus — how your brain prioritizes work.
Situational Structure — the degree of structure in your work and life.
Individuals do their best work when their priority focus complements their situational structure.
Those with a propensity towards task focus excel in low and high structure settings.
Those with a propensity towards relationship focus thrive in moderate structure settings.
Your priority focus is inherent to who you are. While small tweaks to your priority focus may help a little, the power is in adjusting your situation to match who you are. Knowing you can adapt your structure to how you are wired is empowering. Understanding how to adapt your situational structure to your highest performing self is the game changer.
In Real Life:
The Covid pandemic did a number on many of my clients' situational structures.
For those with a Relationship Priority Focus, losing a consistent work schedule, not having to physically be in meetings at specific times, and not traveling to and from the office moved them from moderate to low structure, which isn't their best fit. By defining work starting and stopping times, creating a work–only zone, and implementing regular planning sessions, they were able to build in enough structure to move themselves back to their moderate structure sweet spot.
For those with Task Priority Focus, the change to routines, shifts in how work was done, and the inability to know what was coming next moved them from high to moderate structure. By identifying top priorities, scheduling team check–ins, and creating personal accountability systems, they were able to move themselves back to their high structure sweet spot.
Can you see how understanding your structure preference can help you be more productive?
Book News: I'm putting the finishing touches on my Book page and Amazon page now.  It's not quite done but you can learn more here and look at the pre-order information here.  The paperback releases right after Labor Day! (That's really soon!)  As I've learned, there is no pre-order on the paperback. You'll have to wait until September 7th.  I am working on planning my Virtual Launch Party now.  I'll share the launch party details with those of you who are receiving this Blog post in your email inbox. If you want to sign up to get on my list and be notified of the Launch Party details you can do that here.