20 Jun

Success Formula Blog Course Week 3: Core Values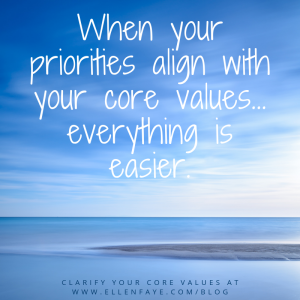 Helpful in the process of getting clear on what's important is identifying and understanding your core values.
A value is your assessment of what is important to you in your life.
Your core values are those values that define you as concisely as possible.
Try the following Core Values exercise and see what you learn. Keep in mind that there is no right way or wrong way to do this exercise.
View or Print the Core Values Worksheet here.
Step 1) Circle 16-24 words from the list that best reflect your values.  Feel free to write in any values that are important to you that are not on the list.
Step 2) Narrow your selection by grouping related values together in the boxes provided.
Step 3) Select the one value per box that you feel best identifies a core value. Write that one core value in the corresponding box below.  You may use all 6 boxes, but if you only identify 3 or 4 values that is equally excellent. Example: Courtesy, empathy, friendliness and kindness are somewhat related. By grouping them together it may be easier to determine which of those terms would be your core value.
Do your intentions, focus areas, and characteristics align with your core values?
Do you need to make any adjustments to your intentions, focus areas or characteristics to match your core values?
Do your values support your living the life you want to live?
Take a few minutes and journal about what you've learned.
Creating Your Very Own Success Formula Blog Course Details – This is the 3rd in a multi-series of posts.  Check this post for the big picture. Future posts can be delivered to your inbox by signing up for my blog. And please share this opportunity with your friends and colleagues.