10 Aug

Improve Your Productivity in The New Covid Normal – Create More Structure Than Usual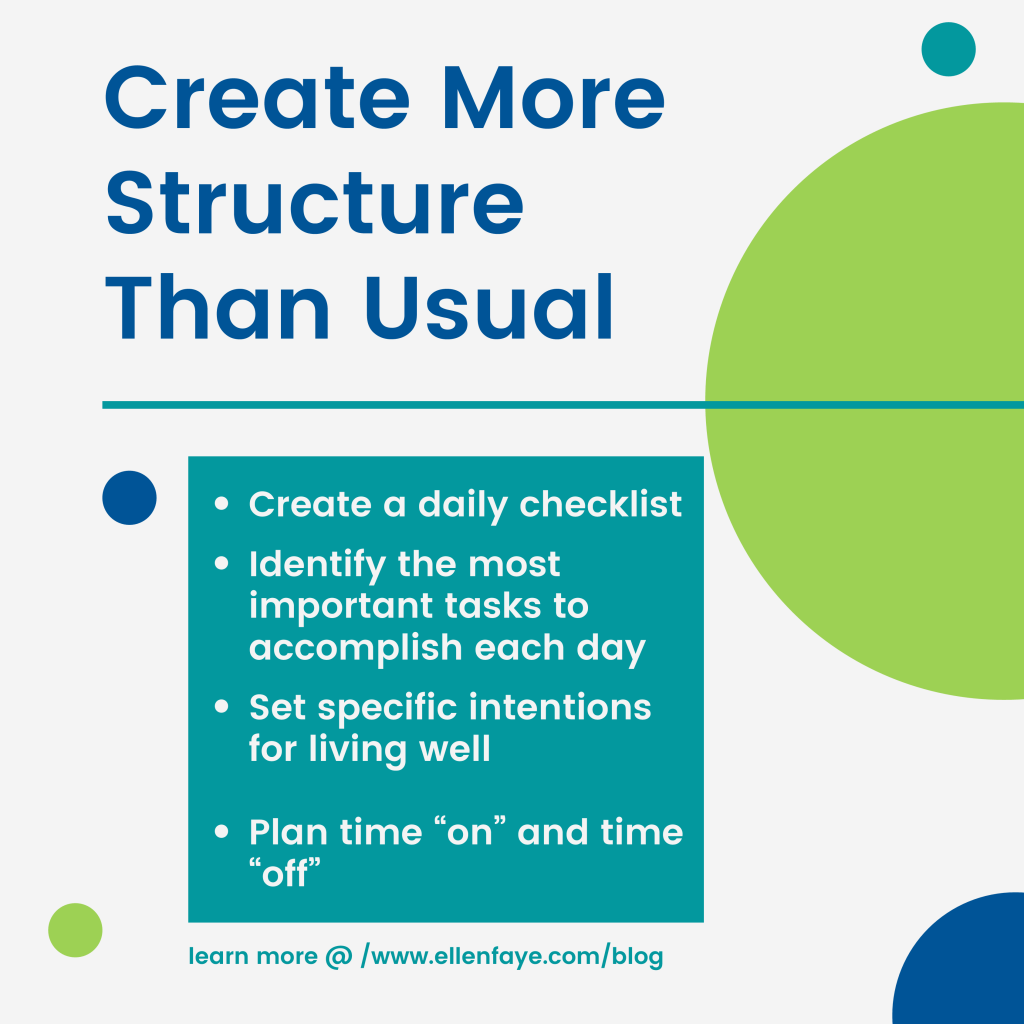 There is a cute meme going around saying it's simply "day," not Monday, or Tuesday, or Wednesday…. just day.  And yes, sometimes the days just run together because there is not a lot of differentiation. It does seem like every day is kind of the same.
That sameness makes it easy to fritter time away.  Without having to be at the office, or a client at a specific time, or having to prep for a trip, or even meet friends for a night out, time seems to fly by.
What can you do to boost your productivity during these unstructured times?  In the absence of external structure, we have to create internal structure! Here are some possible ideas how:
Create a daily checklist
Identify the 1 (or 3) most important task to accomplish each day.
Set specific intentions for living well
Plan time "on" and time "off"
Daily Checklists
Cues you to do your important tasks
Holds you accountable
Shows results
Out of necessity I created a simple Excel doc and have been using it daily since the beginning of May. I feel like I'd be lost without it.  It changes a bit as time goes on and my priorities shift. Here's a snippet of what it looks like now: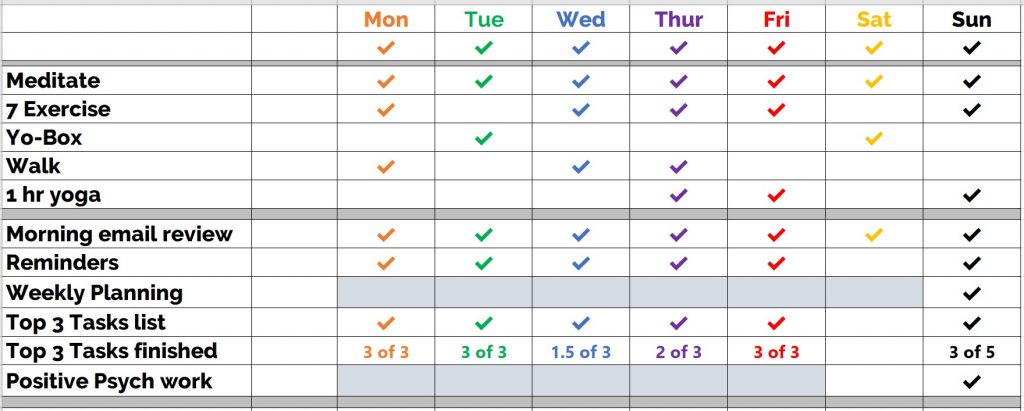 Identify Top Daily Tasks
Take the time to write out the most important things you intend to accomplish for the day. Use a post-it and stick it somewhere you'll be able to see all the time.  Here are some options:
Top 3 tasks
Top 1 task – and 2 on deck
Top 1 task (I love this one because it ensures your focus is only in one place!)
Top 3 tasks – and on deck tasks if the top 3 are quick
I've had clients who find success with all these options. Try them and see what works for you.  Right now the most popular selection is #2 – Top 1 task, and when that gets done move to the 2 on deck.
Set Intentions
What do you need to do to live well? Make a list.  Set your intentions.  Then when you plan your week, be sure they are integrated.  Here are some examples:
Work no later than 6pm
Protect 8a-9am for email and daily planning
Create two 2-hour blocks for project work
Practice Yoga 3 times a week
Meditate at least 5 minutes each day
Do a cardio workout 2 times a week
Make time to plan healthy food choices
Plan time "on" and time "off"
When working from home it is so easy to work all the time. Going to the office created separation. Now you have to create that for yourself.  Protect your non-working hours.
Create a space where you go to work. Don't go to that space during non-work hours. If you need your computer, use it elsewhere.
Try a tech-Shabbat/Sabbath. With the endless Zoom meetings and phone calls it is healthy to give yourself 12 hours off. Try shutting your tech off on Saturday or Sunday.
Take a few days off – if possible, find a place to go for a few days. If there is nowhere safe to go plan a stay-cation and put work on hold.