09 Apr

Move From Over-Stressed to More Productive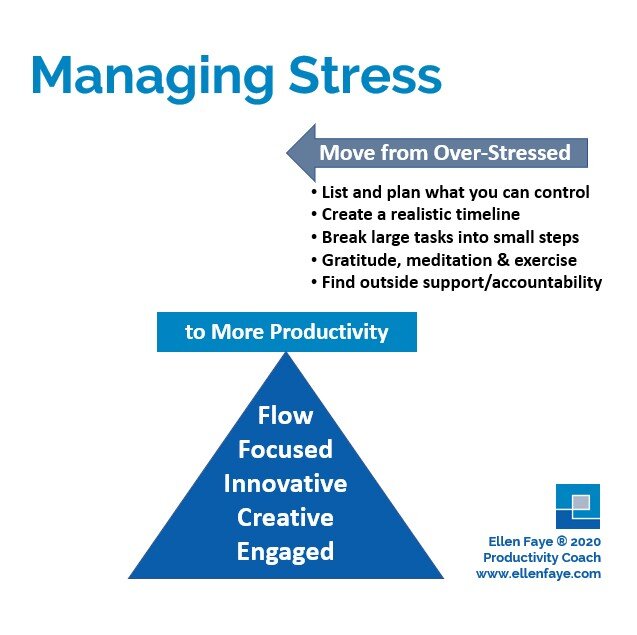 Last post I wrote about how the brain reacts to stress and why physiologically, it's hard to get anything done when we are over-stressed and anxious.  If there is one thing we can be sure of right now, it's that there is much uncertainty. It is quite stressful.  There are however specific things we can do to help move ourselves out of our emotional brain and back to our thinking brain.
List and plan what you can control: take a minute and make a list of what you can control – routines, work flows, meal prep, news consumption, social media time – then set an intention around each.
Create a realistic timeline – to say I will build a website in April may not be realistic. What is?  Outlining it?  Selecting a platform? Writing copy?
Break large task into small steps – look at #2 above. Build Website is stressful. But breaking into the small steps – outlining, selecting platform, writing copy (maybe page by page,) is a lot less stressful.
Practice gratitude, meditation & exercise – build the positives into your day. I take time each day to count my blessings…

My family is healthy.
I have a comfortable home in which to isolate.
I have many friends and colleagues to stay in touch with.
Good things are still happening in my business – check out these two articles from CNN Business Writer Kathryn Vasel on Working from Home 1) handling it all 2) scheduling work with kids around. I'm grateful for the wonderful professional relationships I have, like with Kathryn, and that she consistently reaches out to me for my expert opinion.

Find outside support or accountability – we are juggling a lot these days. A coach or trusted friend/colleague can help you process your thoughts so it's not quite so hard.