01 May

Productivity isn't just personal…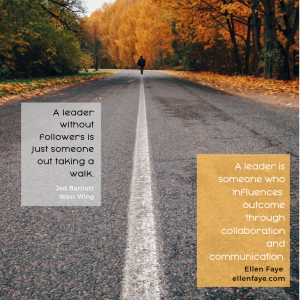 Much is being written about productivity these days, though it doesn't seem to be really helping too many people.  Perhaps it's because of the "one size fits all" approach I discussed in last weeks blog. My perspective, and why I'm choosing to include LEADERSHIP in my blog theme, is because your productivity is influenced by the productivity of others in your sphere. We don't operate in a vacuum. The effectiveness of the people we work with impacts our personal effectiveness.
I know, you may not think of yourself as a leader, but I do.  I define a leader as someone who influences outcome through collaboration and communication.
And, I just love this quote from Jed Bartlett of West Wing fame: A leader without followers is just someone out taking a walk…
Do you influence outcomes?  Do you lead people?
As a entrepreneur you lead your vendors; be it your web designer, bookkeeper, virtual assistant, graphic designer, professional organizer, or coach.
As a member of a team you lead the people on the team. While you may not always have formal authority over them, quite often informal leaders have great impact on outcome.
As a subordinate you lead your boss. If you have ever influenced the outcome of a discussion with your boss, than you are a leader.
As a volunteer you lead to achieve the mission of the organization for which you volunteer. No matter what your position, your work influences and impacts the team and the outcome.
As a family member you lead your family. Think about deciding where to go to dinner. In my family this takes the ultimate of leadership skill!
For you to be effective, not waste time, and get work done, you depend on those around you. You can either isolate or collaborate. When you collaborate, your productivity is impacted by the cultural health of the team.
And if you're the leader, your success is absolutely dependent on the productivity of the team.
Productivity isn't just personal, is it?