30 May

Success Formula Blog Course Introduction: How To Get Clear About What's Truly Important?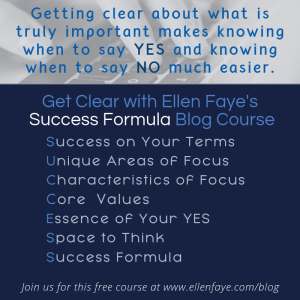 When I begin working with productivity coaching clients, I ask them to share their goals for our work together. One of the most frequent responses is "how do I know what should be a priority?" Many variables impact the answer:
Do you work for yourself or do you have to consider the company/boss you work for?
Are we talking just about work, or do you want to understand this both professionally and personally?
What else and who else do you need to consider in this?
When we start coaching, I can help client's triage by looking at their tasks and deadlines, however for long-term results it takes stepping back and deciding what's important overall.  And this means setting intentions about the life they wish to live and setting goals to attain that life.
Until you are clear about what's important, it's next to impossible to know what to say yes to and what to say no to.
For the next few weeks I will walk you through (at no cost) my 7 steps to CREATING YOUR VERY OWN SUCCESS FORMULA program.  By the end you will have much more clarity about what's important. Then setting priorities becomes easier.
And no worries, if you miss a week, it will all be posted on my blog. As well, each week's exercise will be effective as its own learning experience
Here are the topics we'll discuss over the next few weeks:
S – Success Defined of Your Terms
U – Unique Areas of Focus For Your Life
C – Characteristics of Your Focus Areas
C – Core Values
E – Essence of Your Yes
S – Space to Think
S – Success Formula to Guide Your Priorities
For a short-term fix, try prioritizing those items that if you didn't do would:
Embarrass you if it didn't get done
Let someone down you care about
Let yourself down
Cost you money if you didn't do them
Cause you to miss a really good opportunity
For a long-term fix I hope you'll follow my blog and gain some clarity about what is really important to you.  Those answers will underpin your actions moving forward.  Please share this opportunity with your friends and colleagues. By signing up for my blog they too will get the course delivered to their inbox in 7 manageable chunks.
When you know what's truly important knowing what to say yes to and what to say no to becomes much easier.