09 May

Top Tips for Getting Into Flow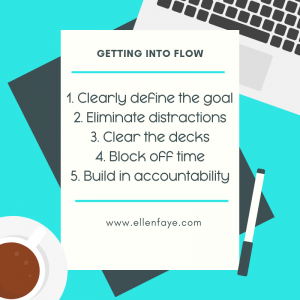 We've all gotten pretty good at squeezing in an email, quick call, or text in a moments time, however when we have project work or multi-step tasks it a bit more complicated. Both productivity and performance improve when we are in flow.
Daniel Goleman, the Father of Emotional Intelligence, describes FLOW as a state in which people become utterly absorbed in what they are doing and their awareness is merged with their actions. He says "you know when you are in flow; work becomes easy, you lose track of time, you feel happy, and joyful, and productive.
It makes sense that we would want to create the flow state for when we finally get to doing our really important work. For the brain to engage, work has to be challenging enough to stimulate the brain. The challenge itself is energizing and motivating.
However, there is more we can do to propel ourselves into flow:
Clearly define the goal and create an outline or plan. Being specific minimizes your getting off task.
Create your optimum environment by eliminating distractions. This can mean no noise, white noise, music with words, or music without words. Wear headphones so people know not to interrupt you, close your office door (if you're so lucky to have one), or find a secluded place to work.
Clear the decks. While some people can jump in and "eat the frog", others need to get the little nudgy annoying tasks off their plate so they can concentrate and be completely engaged.
Block off enough time. Some people can work in micro blocks – 15-30 minutes, and the next day pick up right where they left off. Others need 2 or 3 or 4 hour chunks so they don't have to waste time ramping up to get to where they were the day before.
Build in accountability and feedback. Outside support often helps to stay on task.
When I dig into a task this is what works for me:
I write out my goal and put it in front of me. Then I outline the steps to reach the goal, often on post-its, organizing the process. And, it helps me stay motivated when I can throw away a completed post-it.
My optimum environment includes finding a quiet spot where no one can talk to me. I turn off my phone, ALL social media, and often the internet. I prefer to have either white noise or music without words playing in the background
I clear the decks almost 100%. My desk surface only has the current project – nothing else.  My critical email are completed, my phone calls are made, and I try to have completed as many  little annoying tasks as possible.  This enables me to solely focus on the important work.
I block out time in big chunks, preferably 4 hours. I waste too much time remembering where I was and getting back to that point if I work in lesser amounts.  If I am working on a presentation or something with lots of moving parts, I may block out the entire day.
My accountability to myself is enough for me, so engaging others isn't helpful, but many clients and colleagues do benefit from knowing they will be reporting in on their progress.
The one most important thing to know about flow is that it happens when we are working on things we love doing. What do you love doing?  How can you create your environment to get to do the work you love more?