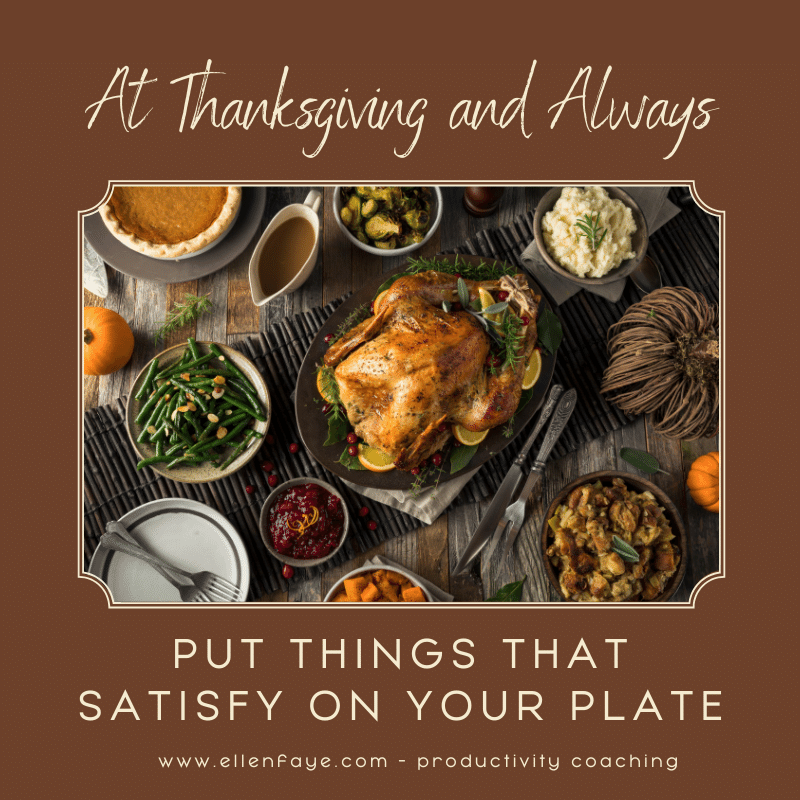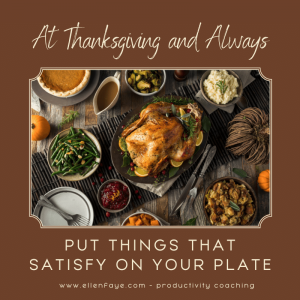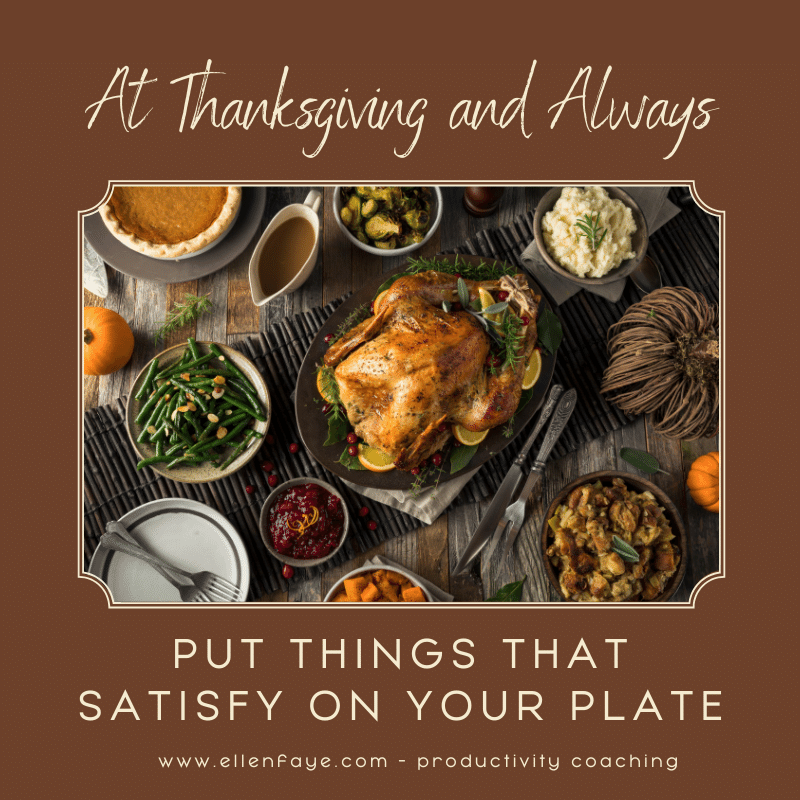 Traditionally on Thanksgiving I write about our lives being too full, like our Thanksgiving plate. And, that if we fill our Thanksgiving plate with foods to please everyone else, we won't have room to eat the foods that we love. This results in us leaving our Thanksgiving meals unsatisfied and unfulfilled… and then later eating more pie then we need. Point being, if you want a balanced fulfilling life it is important to make room for the sweet potatoes (or whatever your fav Thanksgiving Day food of choice is.)
This year as I've worked as a Productivity Coach, I've observed this trend of not making room for the things that matter:
We put our own passion projects on the back burner
We spend too much time making unimportant things perfect
We don't know how to even begin to relax
Make Time for the Satisfying Work
Do you have a "passion project" you never get to? Or even a work project that you'd enjoy doing but everyone else's priorities, daily meetings and email, and the business-of-business keep you from doing what interests and inspires you?
You are not the only one. There is a way to fix this. You need to plan doing your project. Plan to prioritize it. Plan to work on it. Plan by breaking it into small manageable parts and then plan to do it by putting it on your list.  And not the Sooner or Later list but the Important and Hot lists. Working on it a little at a time will get it done.
Let Go of Perfect
Do you seem to take longer than everyone else to finish tasks? Do you hesitate to send out work because it may not be good enough? Do you keep working on something because you worry that others will judge you for it not being perfect?  Newsflash! Not everything has to be done perfectly. Does Apple and Microsoft release software updates that aren't perfect? Of course, they do – and that's how they keep moving forward.  I'm not asking you to be comfortable doing mediocre work. Nor am I suggesting that if you have something really important that you don't give it your best. I am suggesting that most of the time very good is sufficient and that the difference between very good and perfect isn't notable enough for the time investment. The 80/20 rule applies. You get to very good in 20% of the time. Perfect takes you another 80%. (Read more about the Pareto Principle in my How To Manage Time Better blog post.)
Learn to Relax
Excessive busy-ness is no longer looked upon as a good thing. And I'm hoping that our work-cultures are moving towards eliminating the frenzied activity that causes burnout. Now what?  My clients tell me they have no idea how to relax. Months into the pandemic and the extra time we've gained not commuting has been absorbed like a Bounty paper towel. It's sucked up and it's gone.  Not traveling, limiting social visits, shopping virtually…and we still don't have time to relax. What does relax mean? Another exercise class, reading more, watching more, cooking more?  If this helps you to decompress then do it. But for many, these tasks are simply personal to-do list items, done for outcome and not pleasure.  What gives you pleasure? What gives you joy? What helps you to slow and appreciate what you have? As the saying goes, we are human BE-ings, not human DO-ings.  Can you identify one act of "BE-ing" that helps you relax? (I think bubble bath!)
At this time of Thanksgiving, even in this crazy time, there is so much to be grateful for.  I wish for you new perspective and peace as you learn to put things that satisfy on your plate.