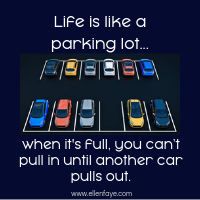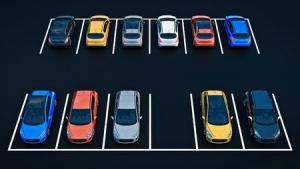 Life is like a parking lot…   
When the lot is full, no matter how much you'd like to, you can't pull in until another car pulls out.
Is your parking lot full?
Do you have more cars to park?
What car has to leave to put a more important car in?
We all have 24 hours in a day and we all have 7 days in a week.  We can't control that.  What we can control, however, is what we do with those hours.
If we break this down, we can agree:
We need to sleep: there goes 7-8 hours a day
We need time for essential self-care: eating, grooming, emptying the dishwashers, etc. – we'll give that 3-4 hours
24-12 = 12      or      24-10 = 14
You have 12-14 disposable hours a day!  That is 84 – 98 disposable hours a week.
How are you going to fill your parking spaces?
For my analytical readers – depending on your disposable hour calculation above each space is 8.4-9.8 hours.
For my creative readers – figure 8-10 hours a week per space!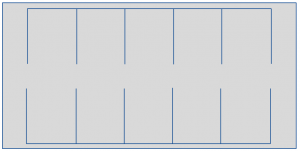 Consider your "Unique Focus Areas" you created in Week 2. These can guide you to fill your spots with the things that you identified as mattering the most.
This is how my parking lot looks:  4 spaces to work, 1 space to volunteering, 2 spaces to self-care, 1 space to personal/professional development and 2 spaces to my family.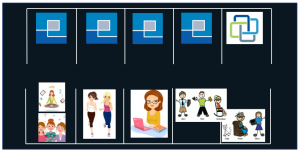 This week's assignment: Fill your spots.  You may want to do this twice.  Once for how it is now and once for how you want it to be.
Creating Your Very Own Success Formula Blog Course Details – This is the 5th in a multi-series of posts.  Check this post for the big picture. Future posts can be delivered to your inbox by signing up for my blog. And please share this opportunity with your friends and colleagues.